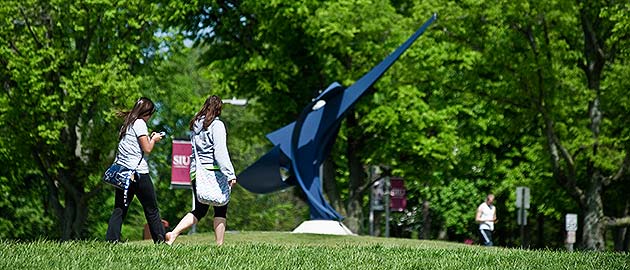 Graduate Programs
Degrees Offered
Information on degrees offered.
We offer a Masters of Science degree in electrical and computer engineering, thesis or non-thesis options. We also offer masters degrees in Biomedical Engineering and Cybersecurity and Cyber Systems. Our PhD program is one of the largest and most successful programs in the state of Illinois.
The College of Engineering offers graduate programs leading to the Master of Science and Doctor of Philosophy degrees. The School of Electrical, Computer, and Biomedical Engineering offers programs of study and research leading to the Master of Science degree in Electrical and Computer Engineering and the Doctor of Philosophy in Electrical and Computer Engineering. The School provides a rich environment for educational and professional advancement in the following areas: Antennas, circuits and systems theory, electromagnetics, robust and adaptive control, robotics, embedded control, MEMS, plasma processing, energy conversion, power systems, power electronics, pattern recognition, image processing, biomedical engineering, neural networks, optical computing, stochastic modeling, wireless communications, detection and estimation theory, communication networks, mobile ad hoc networks, sensor networks, digital systems, programmable ASICs design, bioengineering, computer architecture, CMOS VLSI, fault tolerance, mixed signal testing and design, low power system design, hardware/software co-design, synthesis and verification of digital systems, physical design automation, and VLSI testing.
The ECBE programs of study provide a balance between formal classroom instruction and research, and are tailored to the individual student's academic and professional goals. Graduates of the program enjoy excellent employment opportunities and are highly recruited worldwide in industry, government, and academia.
Graduate Courses
A list of Electrical, Computer, and Biomedical Engineering courses with descriptions can be found in the Graduate Catalog.

Assistantships
The School awards teaching assistantships based on teaching support needs. The number of awards is limited by the availability of funding. Students will be selected by the School chair, and the applicants will be notified promptly following established university guidelines. Selection criteria include: (a) technical competence on the assigned duties, (b) performance on previous assignments as evidenced by instructor evaluations and any feedback from students in those courses, (c) communication skills, and, if applicable, evaluation on language skills according to established university procedures, and (d) feedback from their MS thesis or PhD dissertation advisers to identify strengths and weaknesses in specific technical areas. Application for Graduate Teaching Assistantship for ECE Dept.
If you are interested in a Research Assistantship, please directly contact the faculty whom you wish to do research with.
Admission Requirements
Admission requirements can be found in the Graduate Catalog.
Contact Information
Please address any correspondence to "Master of Science Program" or "Doctor of Philosophy Program" to the following address:
Department of Electrical, Computer and Biomedical Engineering
Mail Code 6603
Southern Illinois University Carbondale
1230 Lincoln Drive
Carbondale, Illinois 62901
For telephone inquiries, please call (618) 536-2364 and refer to the program you're inquiring about. The ECBE fax number is (618) 453-7972 and email address is ecbedept@siu.edu.