Larry Mieldezis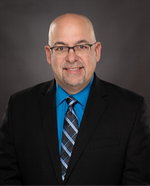 Class of '86, College of Engineering, CTO, ClickDimensions Inc, Atlanta, GA 
Larry is a veteran executive and leader in the technology industry. He is currently the Chief Technology Officer for ClickDimensions, a leading sales & marketing automation software firm.  Previously he was Chief Information Officer and Chief Operating Officer for Liaison Technologies, a cutting-edge cloud-based software company he co-founded in 2000. When Larry and his CEO partner started Liaison, they began with a $110M investment. In 2018 Liaison was acquired by the leading enterprise-solutions powerhouse, OpenText to boost its annual revenue by more than $1 billion, raising its value to more than $3 billion.
As a self-described business enabler, Larry is always looking for the next "Big-Bet" to excel past the competition. He capitalizes on his technology roots and business acumen to accelerate pivotal innovations. Industry honored Larry and Team Liaison with two notable awards—recognition in the Forrester Wave Report and Gartner's Integration Services Magic Quadrant.
Throughout his career, Larry focuses on futurizing corporate goals. In concert with senior leaders, he is the catalyst for organizational growth, revenue boosts, innovative business solutions, and operational excellence that delivered.
RESULTS:
Realized 55% annual revenue increase, opening and operationalizing a vertical Healthcare unit.
Delivered 345% volume growth and $600 million in global transactions daily with next-generation software rollout.
Increased revenue $67 million and built a cornerstone operation that drove continued business growth.
Larry's hallmark challenge and innovation was to resolve the growing demand for and rising costs of professional services outsourcing. In partnership with Southern Illinois University, he developed an insourcing model in rural Illinois, keeping costs low, boosting morale, and creating a steady stream of highly professional and eager technologists to serve Liaison's growing clientele.
RESULTS: A reduction in HR costs by $2.5M annually and run rate by 30%. Turnover dropped from 18% to 5%, while production and output by increased by 30%. Furthermore, customer satisfaction gained an immediate 25% boost. This Center of Excellence (COE) model continues at the university today. He and his university colleagues developed a for-credit course tailored to Liaison's architecture.
Early in his career, industry giants such as Microsoft recruited Larry, realizing that he would provide quick turn-around action. During MSN's growth period, he was asked to partner with infrastructure vendors to scale and broaden the MSN platform allowing them to capture 90% of the US population with high-speed internet access.
RESULT:  Recaptured the Number One market position for MSN as a single ISP provider that continues to this day!
Larry holds has an undergraduate degree in Computer Science and a minor in Mathematics from Southern Illinois University (SIU) and an MBA from the Goizueta Business School, at Emory University.  He is currently a Board Advisor for the SIU College of Engineering Industrial Advisor Board and serves on the Board of Directors for SIU's Alumni Association, having served as president previously.
In addition to his success at ClickDimensions, OpenText, Liaison, and Microsoft, Larry has brought his enthusiasm and turnaround ideas to UPS and Georgia-Pacific, advancing the corporate giants to next-generation technologies solutions.
Larry and his wife Amy (class of '90), have six children and live in the Atlanta area.