Mark Pagano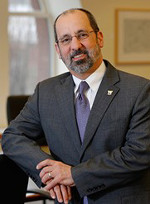 Dr. Pagano is a three time graduate of the College of Engineering at Southern Illinois University Carbondale. After serving briefly as a mechanical engineering analyst and nuclear process engineer in the power industry in Chicago, IL, Mark began a career in academia which now has reached almost forty years. He began his academic career as an Assistant Professor at SIUC in 1983 but left to take on an administrative role at Purdue University in 1992. After serving for four years as Head of Department of Mechanical Engineering Technology at Purdue, he joined the College of Technology's Dean's Office in 1996 and as Assistant Dean managed the University's Statewide Technology Program with eleven separate locations across Indiana. During this time, the statewide system experienced its highest growth on record and added new teaching locations at the Indianapolis International Airport and at the Subaru Automotive plant in Lafayette, IN.  The programs were providing access to technical Purdue degrees to almost 2000 working adults across the state. Dr. Pagano went on to serve as an Associate Vice Provost for Engagement and then Dean of Purdue's Extended Campus.
In 2011, Mark left Purdue to assume the role of Provost and Vice Chancellor for Academic Affairs at Montana State University Billings. There he led the campus through a strategic planning process and helped launch the campus's first pre-engineering program and set the ground work to add a new Science and Health building. In 2015, Dr. Pagano went on to serve as the 6th Chancellor of the University of Washington's Tacoma campus. There he has championed UW Tacoma's urban-serving mission through the establishment of Charting our Course, the campus's 2016-2021 Strategic Plan.  He has worked to expand access to higher education in the South Puget Sound and has helped expand the portfolio of high demand STEM programs available in the region, such as BS degrees in Electrical, Civil and Mechanical Engineering, an MS in Electrical Engineering and a Ph. D. in Computer Science. Recently he stepped down as Chancellor and is serving on the Mechanical Engineering Faculty.
Dr. Pagano has served as a professional engineer in Illinois and Indiana and has been named a Fellow of both the American Society of Engineering Education (ASEE) and ABET. He is also a recipient of the Ben Spark's Medal in ASME which recognizes significant accomplishments in mechanical engineering education and service over an extended period of time as well as receiving the National ASEE James H. McGraw Award for outstanding contributions to engineering technology education.