Ozzie Lomax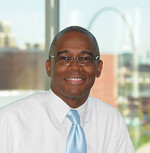 PMP, MBA – Manager, Gas Turbine and Renewable Generation AmerenMissouri
Ozzie is responsible for 15 natural gas-fired energy centers, generating 3,000 megawatts of energy, as well as the new 15 MW Maryland Heights Renewable Energy Center that opened in 2012. He also coordinates the 5 Year Strategic Planning, annual budgeting for the AmerenMissouri Non-nuclear Generation, and Project Management training.
Lomax has been with Ameren for 11 years. In this time, he has held other positions of Assistant Plant Manager, Labadie Energy Center, Manager Strategic Projects, Plant Manager for the Meramec Energy Center. Prior to his time with Ameren, Lomax spent 22 years at the Kansas City Power & Light Co. in various plant, engineering, and financial leadership positions. He has been involved in launching project management initiatives at both companies.
Currently, Lomax sits on the SIU – Carbondale School of Engineering Board and the SIU – Edwardsville School of Business Project Management Board. He is an Adjunct professor at Washington University.  He was Director of Certification for the Kansas City PMI Chapter and has been managing projects for over 30 years.
Lomax holds a BS degree in Electrical Engineering Technology and an MBA, Project Management concentration from Southern Illinois University. Ozzie is a 2006 Alumni of the St. Louis Fellows Leadership Initiative.
His favorite Leadership principles are Perseverance & Accountability.